We are now on Facebook!
Please visit our page and keep in touch!
Jessie Dyer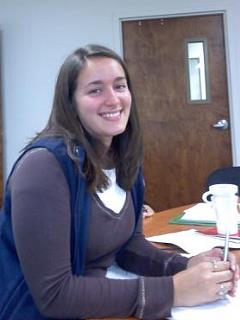 After a lifetime of interest in the outdoors, Jessie Dyer began her involvement with Envirothon as a freshman at Narragansett High School in Rhode Island in 2002. In her senior year, after 4 years of involvement, she assumed the position of team Captain. After a year of dedicated hard work her team won the state competition and continued on to compete in the North American Envirothon in Missouri. As a result of her success in the 2005 RI State Envirothon Competition she was awarded an internship with the USDA Natural Resource Conservation Service (NRCS). The in-depth knowledge she acquired through her Envirothon experience proved to be invaluable and she was soon offered a permanent position in the Student Career Experience Program as a Soil Conservationist trainee. In her capacity at the NRCS she has written a watershed plan, has completed extensive engineer surveys, and worked with farmers to help them better manage their soil and water resources. Last summer she left Rhode Island for a three month detail for the NRCS on the island of Kauai in Hawaii. On Kauai she created conservation plans , collaborated with the Kauai Soil and Water conservation districts, and worked on habitat protection for several critically endangered plant species. This marked the beginning of her NRCS career where she looks forward to working in many different areas of the country.
Driven by her experiences in Envirothon, she decided to pursue a degree in Environmental Science and Management from the University of Rhode Island. Countless research opportunities became available to her in college as a result of her qualifications from the knowledge acquired through Envirothon including a mammal research expedition to Costa Rica. This spring she graduated from the University of Rhode Island and was recognized for her outstanding achievements on the URI web site.
Her commitment to Envirothon has continued as she serves on the RI Envirothon Committee as the Alumni Chair, she held the position of 2008 RI Competition Coordinator and now coaches her own team at South Kingstown High School in Rhode Island. She meets with her students weekly and hopes to see them compete in a North American Envirothon Competition in the future and receive the same invaluable experience and opportunity that she herself received.